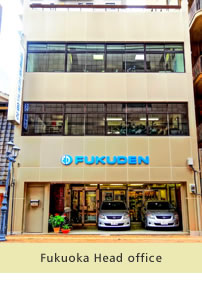 Our company is a trading company that deals with Toshiba semiconductors and other electrical materials. While nowadays the world's production and consumption of semiconductors is concentrating in Asia, we have our head-quarter in Fukuoka, which is more and more playing an important role as the gate to Asia.

It is possible to go from Fukuoka to Seoul in 70 minutes, to Shanghai in 90 minutes, to Beijing in 150 minutes, and to Taipei in 145 minutes. In addition, the number of air routes from Fukuoka to Southeast Asia comes 3rd place after Kansai International Airport and Narita. Making use of this advantageous location, we are able to deliver information and products promptly and accurately.

Moreover, in 2002 we established branches in Hong Kong and Shenzhen, and in 2004 we also opened a sales office in Tokyo. We keep on doing our best to support and meet our customer's requirements with this logistics system and our good services. We are looking forward to serving your company.